Custom Kicks, Honeydew, Dirty Sexy Money, Greenport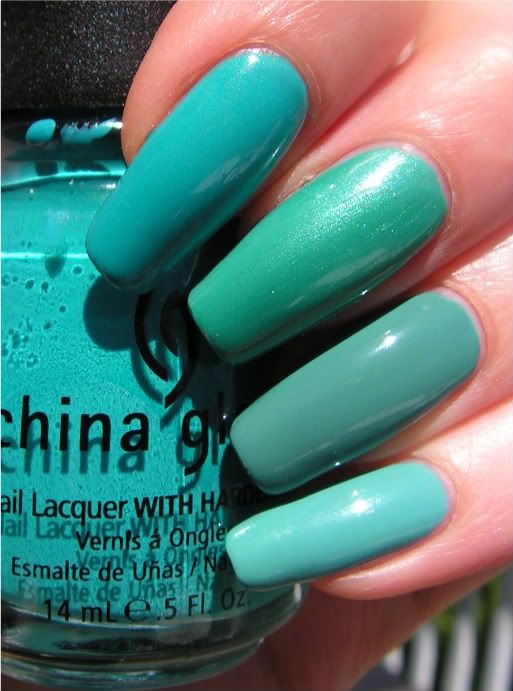 Index: Custom Kicks, Majeur: Honeydew, Annulaire: Dirty Sexy Money, Auriculaire: Greenport
Index: Custom Kicks, Middle: Honeydew, Ring: Dirty Sexy Money, Pinkie: Greenport
Custom Kicks de China Glaze
: Le plus vibrant et le plus bleu. Il est unique grâce aux paillettes dorées très fines (invisibles sur cette photo, malheureusement).
Honeydew de Sally Hansen
: Le plus vert, mais aussi celui qui a le plus de paillettes. Je n'ai pas un vernis qui lui ressemble dans ma trousse!
Dirty Sexy Money de Misa
: Il est plus foncé, mais moins vibrant que les 3 autres, je dirais même qu'il y a une légère touche de gris à l'intérieur. C'est un vernis que je pourrais porter à l'automne et à l'hiver, contrairement aux autres.
Greenport de Essie
: Celui-ci est une version plus claire et plus vive de Dirty Sexy Money. C'est tellement une jolie couleur estivale!
-----
China Glaze Custom Kicks
: The bluer and the more vibrant. Very unique because of the gold flecks (they're invisible in my pics, sadly).
Sally Hansen Honeydew
: This one have more shimmers and is greener. I have nothing else like it in my stash!
Misa Dirty, Sexy, Money
: Another unique and beautiful shade! DSM is darker and dustier, I could wear it in fall and winter, compared with others.
Essie Greenport
: This one is a lighter and brighter version of Dirty Sexy Money. Such a great summery color!