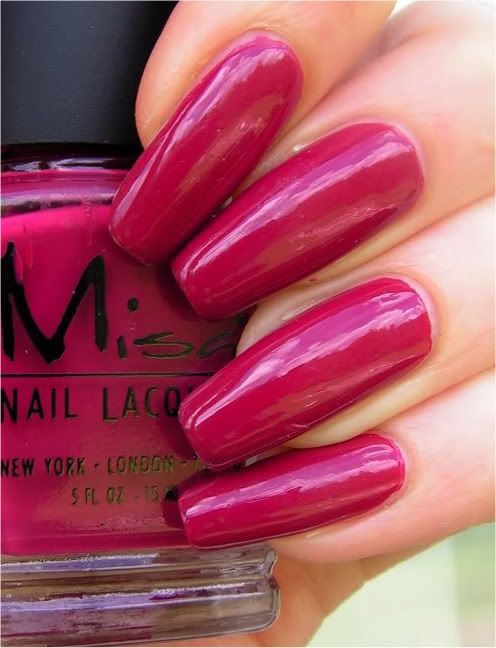 Ma photo n'est pas très réaliste, en vrai, la couleur est beaucoup plus foncée. Je suis désolée, la photo est bizarre et mon application est terrible. In real life, the color is much darker. I'm sorry, the picture look weird and my application is awful.


Push Upon It est un vernis laqué de couleur framboise de la collection printemps de Misa. Cette couleur n'est pas unique, elle ressemble beaucoup à Miami Beet de OPI, Beet Stain de Sally Hansen et Moxie de Zoya, mais elle est tout de même jolie. C'est un vernis très élégant et j'adore le fini laqué!
Le vernis est complètement opaque avec 2 couches, mais la formule est un peu trop épaisse.
---
Push Upon It is a deep raspberry creme from Misa Spring Collection. This color is not unique, it's very close to OPI Miami beet, Sally Hansen Beet Stain and Zoya Moxie, but it is still pretty. It's a very elegant polish and I like the shiny finish!
The polish is completely opaque with 2 coats, but the formula is a little bit too thick.