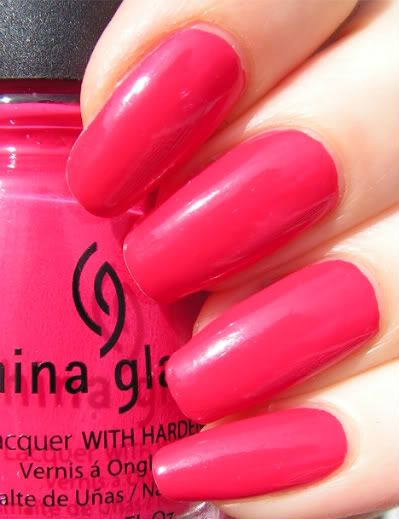 Heli-Yum est un magnifique vernis rose framboise de la collection Up & Away de China Glaze. C'est joli et estival et même si ce n'est pas une teinte unique, je l'aime beaucoup.
La qualité de ce vernis est remarquable. La texture est crémeuse, très opaque et l'application est parfaite. Le vernis est aussi très laqué! (Il ne semble pas brillant sur mes photos parce que je le porte depuis quelques jours!)
J'ai utilisé 2 couches
---
Heli-Yum is a beautiful raspberry pink polish from China Glaze Up & Away collection. It's pretty and summery and even if it's not a unique shade, I really like it.
The quality of this polish is outstanding. The formula is creamy, very opaque and the application is flawless. The polish is also very shiny! (It don't look shiny in my pics because I'm wearing it since a couple of days!)
I used 2 coats.